ABORTED SOCIETY RECORDS – AUG 2012 UPDATE
for more info email: abortedsociety@hotmail.com
NEWS
=========================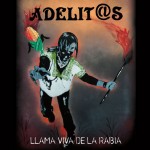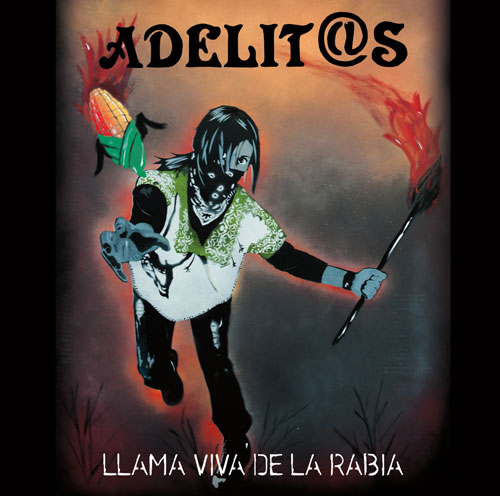 Summer touring season is upon us and we have been absolutely slammed!  A couple releases have been unexpectedly delayed at the plant, and we are just now finally getting the vinyl for the ADELIT@S – Llama Viva De La Rabia LP shipped to us next week.  ADELIT@S is just now finishing up a West Coast/Mexico tour, and have limited test-pressing copies of the release with them.  For all of you whom have pre-ordered this, we apologize for the delay and will be shipping your order very soon.  We have a handful of the limited edition pre-orders still available so grab one while you still can!  The release is almost sold out already, thanks to all of you whom have ordered!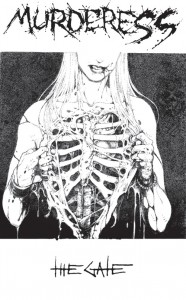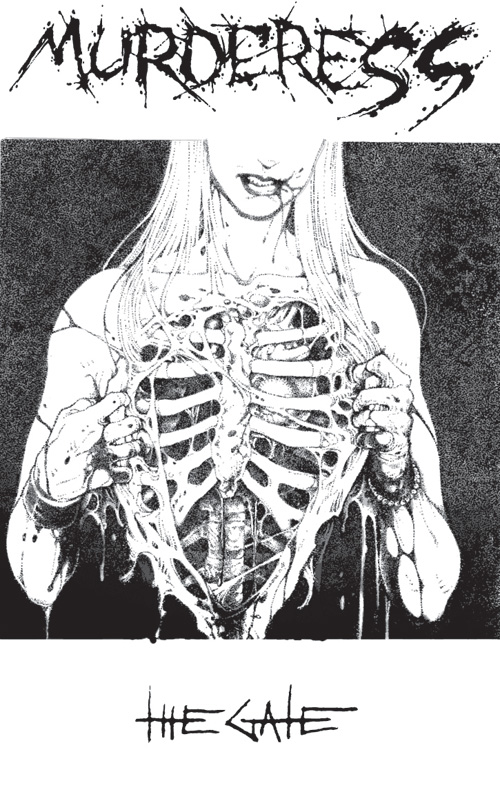 Fresh out of the plant is a new 4-song release from MURDERESS, just in time for their East Coast tour starting August 11th in Philly (see tour dates below).  The release is titled "The Gate" and is the first recording to feature their full five-piece lineup!  Released as a cassette for this tour, we will also be doing a vinyl version of it in the coming months.  Check out "For What?" here or by checking out our media player on this page.
The official repress of the MURDERESS "The Last Thing You Will Ever See…" LP was also delayed at the plant, and will be available the week of August 20th in a run of 500 on swamp green vinyl, with black paper sleeves, poster/lyric insert, and mp3 download cards.  We made a very limited edition release of the LP with hand numbered silk-screened covers and the same poster/lyric insert in a run of 100 for their East Coast tour.  These will not be available in stores, distros, or our online mailorder, so go see them tear it up and pick one up from the band directly.
AGE OF COLLAPSE is hitting the road again for a West Coast US tour starting Friday August 10th in Santa Cruz.  They had to bag a Spring tour last minute due to unforeseen injury, so go check out their raging live set and pick up a copy of their "Burden of Beast" LP, available in clear and black vinyl still!
COUNTDOWN TO ARMAGEDDON is gearing up for an East Coast US/European tour invasion this September and October.  They will be releasing their new LP "Through the Wires" on vinyl through Skuld Releases in Germany, and ABSOC will be doing a CD/Cassette version as well.  If you are overseas and would like to help out with shows, please see the dates below and contact Mila at Agipunk (info@agipunk.com)!  Check out "Ex/Communication" here or through our media player on this page.
ABSOC RELEASES INCOMING FROM THE PLANT
=========================
ABSOC 025 – ADELIT@S – Llama Viva De La Rabia LP (week of 8/13)
ABSOC 026 – MURDERESS "The Gate" CS (week of 8/13)
ABSOC 017 – MURDERESS "The Last Thing You Will Ever See…" LP repress (week of 8/20)
ABSOC RELEASES STILL AVAILABLE
=========================
ABSOC 024: RATBITE – Two Teeth CS (**last copy left**)
ABSOC 023: AGE OF COLLAPSE – Burden of Beast LP/CS (handful of lim. Editions left, black and clear vinyl available)
ABSOC 022: FUTURE RUINS – s/t LP (less than 50 left)
ABSOC 021: NUX VOMICA – Embrace the Cycles 7" (last 15 left)
ABSOC 020: INSIDIOUS PROCESS / AVFART 33 split 12" (10 left)
ABSOC 019: ORDER OF THE VULTURE – Martyr for Nothing 7″ (some red and black left)
ABSOC 018: COUNTDOWN TO ARMAGEDDON – Eater of Worlds LP (67 left)
DISTRO updates
=========================
ADELIT@S – Un Solo Grito 7"
AGE OF COLLAPSE/WARSCROLL – split 12" **restock**
BELGRADO – s/t LP (awesome post-punk from Spain!)
TERRIBLE FEELINGS – Shadows LP (remarkably catchy and sad post-punk from Sweden)
NUX VOMICA T-shirts (Asleep in the Ashes color, b/w skull, and logo all restocked)
TOUR DATES
=========================
AGE OF COLLAPSE "Screaming for Vengeance" Summer Tour 2012
AUG 10 – Santa Cruz @ The Shit House w/ Critic
AUG 11 – Oakland @ The Swamp w/ WARTRASH, Caffa & Old Crow
AUG 12 – Arcata @ Ink Annex w/ Bonedance (ID), Tigon
AUG 13 – Eugene @ Wandering Goat w/ Crawlin (Seattle)
AUG 14 – PDX @ The Know w/ Ripper and Lecherous Gaze
AUG 15 – Tacoma @ The Redroom
AUG 16 – Seattle @ Club M w/ CTA, Rat Damage, Pins of Light (Oakland – mems of Dead and Gone), Lecherous Gaze (Oakland)
AUG 17 – Bremerton @ the Charleston w/ Rat Damage and Negative Balance
AUG 18 – PDX @ The Ranch w/ Raw Nerves, Wretched of the Earth and Night Nurse
AUG 19 – DRIVE
AUG 20 – Santa Rosa@ Los Caballos w/ Negative Standards, Whorpath and Still Ill
AUG 21 – San Luis Obispo @ The Broad House
AUG 22 – Long Beach w/ Destroy Judas, Headwind and Wither
AUG 24 – Tijuana @ Arte & Rock Cafe
MURDERESS – East Coast Tour
August 11th – Philly @ TIH Afterparty
August 12th – Philly @ TBA
August 13th – Brooklyn @ The Acheron – 57 waterbury st – w/ HARDSKIN, SAD BOYS, COFFIN FIT, and FAMILY FUN
August 14th – Montreal @ Katacombs – 1635 Boulevard Saint-Laurent Montreal, QC w/ WAR MEASURES, DEAD PARTY AND DARK CIRCLES
August 15th – Toronto @ the 460 – 460 spadina ave. at college st. -w/ ABYSS, KYFE and DENTATA
August 16th – Cleveland @ Now That's Class with Soulless, Inoculation, and Apotheon
August 17th – Pittsburgh @ Gooskies w/ LADY BEAST, ZEITGEIST, and MOLASSES BARGE
August 18th – Richmond @ Hadad's Lake-THE 2012 GWAR-B-Q! BENEFIT FOR RING DOG RESCUE.
August 19th – Baltimore @ Piss Palace with COGNITIVE DISSONANCE (MN), ECCO, AND HAMMERTHROW
August 20th – Brooklyn @ Acheron – 57 waterbury st – w/ TRENCHGRINDER, DEATH FIRST
COUNTDOWN TO ARMAGEDDON East Coast / European Tour 2012
to help out with dates email info@agipunk.com
September:
EAST COAST US:
22 Brooklyn/NYC tba
23 Pittsburgh tba
24 Philadelphia, PA tba
28 Ita Bologna
29 Ita Milano
30 Slovenia ilirska bistriza
October:
01 Austria Wien
02 Slovacchia Bratislava
03 Czech Rep NEED HELP
04 Czech Rep Prague/kladno
05 Germany NEED HELP
06 Germany Leipzig
07 Germany NEED HELP
08 Germany Berlin Koma f
09 Germany Hamburg
10 Germany Bremen
11 Germany NEED HELP
12 Denmark Copenhagen
13 Norway Oslo NEED HELP
14 Denmark Aalborg tbc
15 NEED HELP
16 NEED HELP
17 Germany Karlsruhe tbc
18 France St Etienne tbc
19 France Toulouse
20 Spain San Sebastian
21 Spain Donostia
22 Spain tbc
23 Spain tbc
24 Spain Torella
25 Spain Barcelona
26 France Marisiglie
27 Italy Festival @ xm24 Bologna