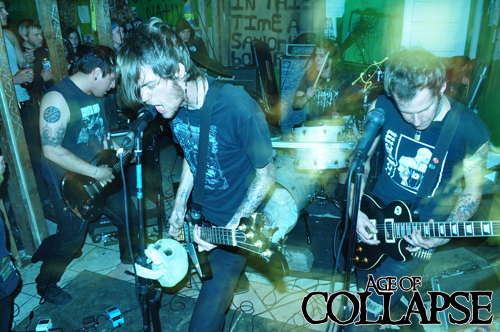 Members:
Sean – Guitar
Blaine – Bass
Steve – Drums
Xavi – Guitar
Date formed:
2008
History:
2008 saw the formation of Age of Collapse as a San Diego based atmospheric crust band. Two years, a split LP and tour demo later Xavier joined, bringing a second guitar layer to the mix. 2011 saw the release of the debut LP on Aborted Society Records, Burden of Beast. Age of Collapse have crafted a very experimental take on crust; blurring lines and sometimes toppling over into completely different musical realms. Their sound is personified by large, crushing distortion, chaotic tempo changes and haunting, reverb drenched cleans. Fast paced punk inspired riffs meld with harmonizing guitars more traditionally reserved for British new wave of heavy metal bands. Whether it be brutal, passionate or furious, Age of Collapse have carved their own niche and sound into the hardcore genre.
Discography:
Age of Collapse / Warscroll – split 12″
Release Date: July, 2009
Age of Collapse (Tracks 1-6)
Warscroll (Tracks 7-10)
Packaging and Media: 500 copies 12″ black vinyl with printed lyric insert.
100 copies CD in clear sleeve with printed lyric insert.
Love Conquers All (Tour Demo)
Release Date: February, 2010
Packaging and Media: 2010 tour packaging – 25 copies CD with assorted color Mystery Science Theater 3000 Die-Cut in clear plastic with printed lyric insert. Custom sprayed disc.
2011 tour packaging – 50 copies CD with screen printed and hand sewn matte paper sleeve, screen printed CD lyric insert. Custom black / gold sprayed disc
Burden of Beast LP/Cassette
Release Date: Jan 2012
Packaging and Media: 500 total vinyl copies; 4o0 on clear and 100 on black vinyl.  100 cassettes
Vinyl editions come w/ mp3 download card and color printed lyric insert, matte jackets.
Limited edition of 50 w/ clear vinyl and hand numbered silk-screened cover, includes cassette.
Website/contact info:
http://facebook.com/ageofcollapse
UPCOMING SHOWS:
No shows booked at the moment.