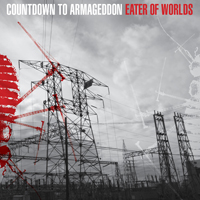 ABSOC 018
COUNTDOWN TO ARMAGEDDON – Eater of Worlds LP
Release Date: October 2010
Pressing: 500 on red vinyl
Status: AVAILABLE
Click here to purchase from Aborted Society Distro
Five years since their s/t 7" on Aborted Society, COUNTDOWN TO ARMAGEDDON return with their first full-length release, Eater of Worlds. Based in Seattle, WA, CTA took a long hiatus following West Coast and US tours, and returned in 2008 to write new material. Dark, atmospheric crust with heavy post-punk/darkwave undertones, this is an 8-song 45RPM 12" vinyl release with a free download card for MP3 versions. Influences on Eater of Worlds range from TOTALITÄR to KILLING JOKE, while remaining unique and cohesive. Members of current and former projects such as: MEISCE, BOOK OF BLACK EARTH, CITY OF DUST, PHALANX, CLUSTERFUX, THE FACET. Recorded by Stan Wright at Buzz or Howl Studios in Portland, OR. 500 copies on red vinyl.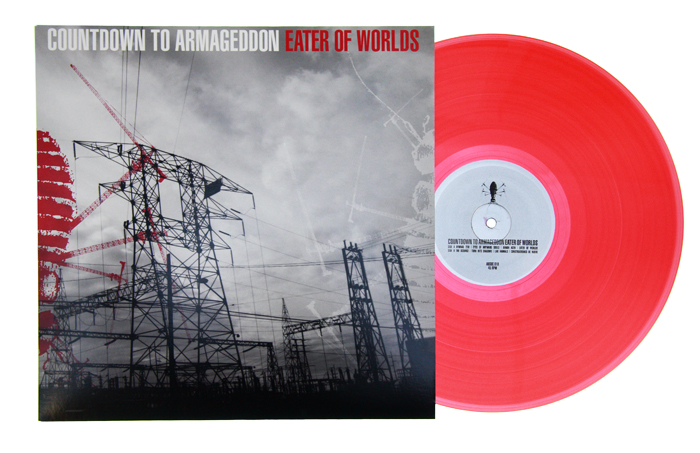 Track Listing:
1. Hymnal 238
2. Eyes of Wayward Souls
3. Banda Aceh
4. Eater of Worlds
5. The Scourge
6. Turn into Shadows
7. Like Animals
8. Construiremos de Nuevo
COUNTDOWN TO ARMAGEDDON – Eater Of Worlds by AbortedSociety
COUNTDOWN TO ARMAGEDDON – Like Animals by AbortedSociety
Watch "Banda Aceh"
Reviews:
From Maximumrocknroll #333
This second release from this band is a vast improvement over their self-titled EP that came out in 2006. Woah — long time. The first thing that strikes me is that these tracks do not sound eager. Does that make sense? You can hear what has improved in the years gone by. It's still angry, but darker and more brooding. There are some slightly discordant sounds here that serve to build tension on the long intro on the first track, and unlike many bands of this style that follow the long intro code, the length here is no hindrance. The songs are melodic with the galloping guitars that we have come to expect from this style of crusty epic hardcore, and the vocals switch from higher-throated metal style to deeper growls. The most interesting moments are when the band incorporates some of the darker elements of post-punk and some slightly metallic stuff — listen to "Like Animals" (the best song on this record) to see what I mean… I don't think Eater of Worlds is for everyone and not every song is great, but if you like melodic crust with slight metallic leanings, but firmly rooted in punk, you should check this out. These dudes are doing something different within their genre. Interesting direction. (MB) (Aborted Society)
http://lineout.thestranger.com/lineout/archives/2011/01/14/album-reviews-owen-hart-countdown-to-armageddon-same-sex-dictator
Countdown To Armageddon's full length features fewer nods to the metal world, barring the requisite Motorhead buzzsaw attack behind every d-beat band. Eater of Worlds (Aborted Society Records) is definitely a part of the Profane Existence/Skuld lineage of black-clad crust punks dropping bleak, bare-bones riffs over even bleaker lyrical motifs of government control and the dehumanizing nature of industrialized society. Of course, this stuff dates back to Discharge and careens through nearly three decades worth of similarly nihilistic, driving hardcore. But CTA balance out their more traditional crust attributes—alternating shrieking and bellowing vocals, 16th note power chord riffs, blazing tempos—with less conventional musical choices—extended instrumental passages, chorus-effected bass and guitar, and more elaborate song structures. While Eater of Worlds is bound to appeal to fans of bands like Misery, State of Fear, and Tragedy, their more idiosyncratic moments help place them alongside more adventurous punks like Rudimentary Peni and Dead And Gone. – Brian Cook
From Cvltnation.com:
http://www.cvltnation.com/eater-of-worlds-countdown-to-armageddonreview/
It's hard to have a peaceful state of mind when you are living in constant mental and physical warfare. Ever since I was a kid, music has always been that thing that has brought peace into my life while at the same time waking me up to whats going on around and beyond my world. I would not trade my teenage years as a peace punk for anything in the world, and I have said it before, in 1984 the lines between Positive Punk, Death Rock, Peace Punk and Post Punk almost did not exist. That's why when I hear a band like Countdown to Armageddon, I get so fucking excited. This Seattle band released a super killer album in 2010 called Eater of Worlds, via Aborted Society Records, that combines the best of the aforementioned genres. Honestly, there is not one weak or insincere moment on this album. The audio and lyrical messages that this band creates on this album are fucking inspirational. The kind of music that this band creates gives me the energy to face anything negative that might come my way, plus it magnifies the positivity that is happening around me. With Eater of Worlds, Countdown to Armageddon made an album that has layer after layer of righteous emotion built into it, so that this record will age with you and never become dated. When I hear their songs, I get this intense feeling of doom from the dirgey bass lines and sound effects moving in and out of their songs. Then within the vocals of this band, you can hear how the vocalists are screaming for change, and in their anguish you can hear this vibe of hope. Countdown to Armageddon's guitar work on this album is a voice unto itself, and on every song the notes that are being played draw you into the band's minds eye. They have truly found a way to bridge the gap between anarcho-punk, crust and post punk, but on the real once your hear this record it goes far beyond any sort of label or barrier! Countdown to Armageddon are also killer song writers that know how to build planets of angst around a sun filled with lava hot melody. I know when you hear the intro to their tune "Eater of Worlds," you will realize that the countdown is on!