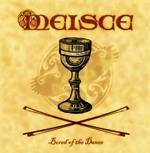 ABSOC 010 / FIST 014
MEISCE – Bored of the Dance 7″ EP
Release Date: Novemebr 2006
Pressing: 1000 on black vinyl
Status: AVAILABLE
Aborted Society and Fistolo Records are proud to present the debut EP from Seattle's folk punk ensemble, Meisce (pronounced Mesh-Kyuh). Elements of Irish folk, gypsy, and eastern European klezmer come together underneath a very strong punk rock influence. Two tracks featuring mandolin, accordion, fiddle, guitars, bass, drums, and vocals on this release. The perfect soundtrack for an evening of drunken debauchery!
Recorded by Brandon Fitzsimons at the Audaretum in Seattle and mastered by Chris Hanzsek at Hanzsek Audio.
Includes current members of: Wormwood, Inhaste, Countdown to Armageddon, Oakhelm, and Slightly Less Than Nothing.
Track Listing:
1. The Death of Michael Flatley
2. Drunk and Alone
Reviews:
From: Profane Existence #54
MEISCE – Bored of the Dance 7"
One day a bunch of drunk punk rockers in Seattle decided it was high time to step out of their d-beat induced worlds, tear themselves away from such notable other projects as WORMWOOD, COUNTDOWN TO ARMAGEDDON, and INHASTE for a few minutes, pick up funny instruments, and act like they're Irish. Some five odd years later, out of the dim lights of pubs all around the Pacific Northwest, two lone songs have made their way onto a beautiful piece of wax. Musically, MEISCE are a wonderful mix of classic Irish styles, twists of gypsy tunes, creeps of Klezmer, and pure punk rock energy! The fiddle, accordion, and mandolin playing all add an awesomely eclectic addition to the mix, while backing guitars, bass and drums fill out the instrumentals behind droning, deep brash vocals. Lyrics are dark, sardonic, and funny. Simply put, if you like punk rock, and you like Irish music, this is the band for you. The two songs featured on this 7" are only a couple of the many beautiful tunes that you will want to sing along to. This is one of my favorite new releases. I hope to see more soon! (Maygun)
Fistolo Records / Aborted Society Records