"

Deserted and forsaken, our hope's a flimsy veil
Our existence is cosmetic, our lives are all for sale"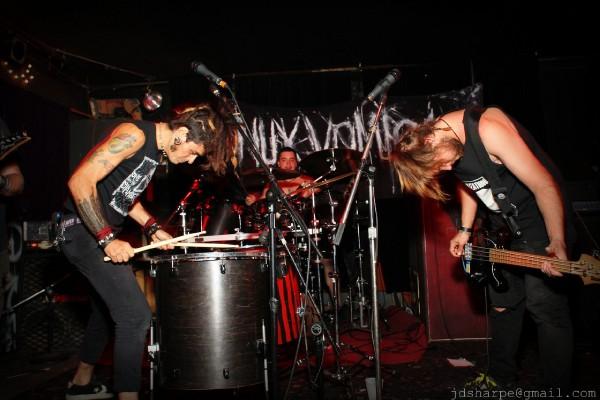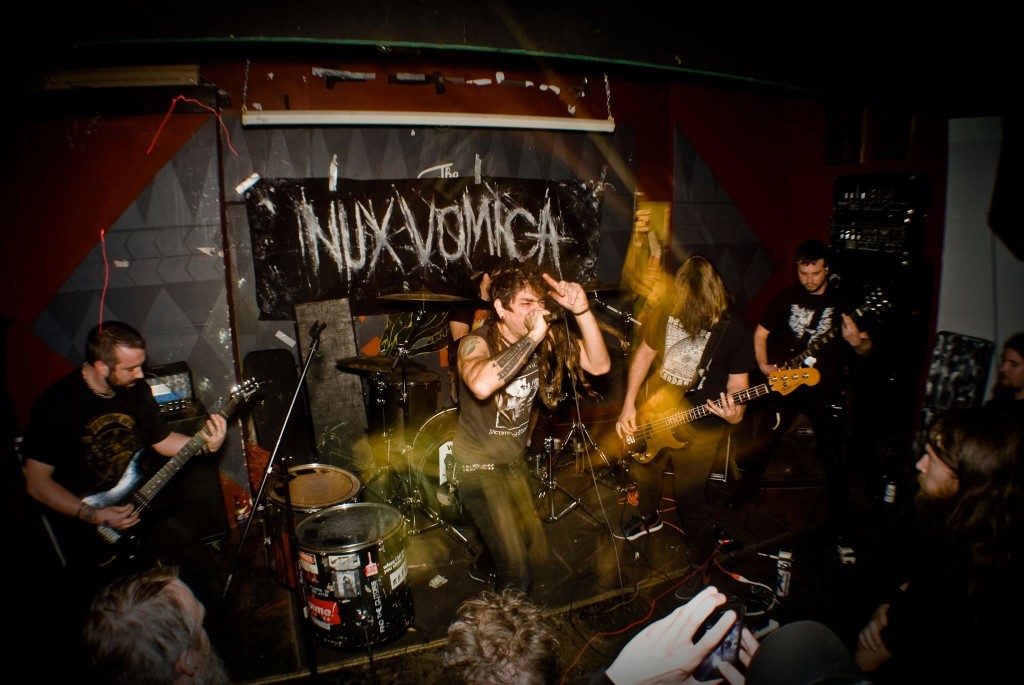 Members:
just dave – vocals
chris control – guitar
tim messing-guitar
zack – drums
danny – bass
History:
Nux Vomica began in Baltimore in 2003. The original line-up was Chris, Dave, Tim, Ben, and Marty. We set out to play melodic and epic metallic crust punk, to have fun doing it, and hopefully offer up some ideas about the world to those who wanted to hear it. The band consists of 3 original members of 'Wake up on Fire' – who were also from Baltimore 2001-2005. Nux Vomica was originally meant to be a chance to rock out and have fun playing more straightforward punk/metal, while WUOF was a more elaborate, genre-bending, doomy, atmospheric project. With our original line-up, we completed one 7″ (The Uninspired), one LP/CD (A Civilized World), one 2 week tour of the southern U.S. with 'Wake up on Fire', and 2 full U.S. tours, by 2005.
After Wake Up On Fire's demise (2005), we moved to Portland, OR. (early 2006), and recruited Zack as our new drummer (late 2006). The first thing we did was record six songs we had written with our original drummer (Marty) which would make up our next three releases (The President is Dead EP, split EP with Kakistocracy, and split LP with unreleased WUOF). After all this, we finally had time to start writing again, and we began to incorporate some ideas and sounds from our previous band. The result has been a style and message that is quite a bit different that when we started…mainly longer, more dynamic songs with effects, sampling, percussion, influences from a ton of different genres, and a lyrical approach that reflects the broader moods of the songs. Before splitting ways with our original bassist (Ben), we completed another full U.S. tour and recorded the seven songs that make up our split 10inch with THE MAKAI, and our double LP/CD "Asleep in the Ashes", both out now…
With our old friend and new bassist, Danny, we have now completed a 2 week west coast tour (2/09), a full U.S. tour (6/09) – with our buds 'Squalora' for the first 2 weeks, and a 2 week west coast tour including Tijuana, Mexico, with our friends 'Order of the Vulture' (2/10). We are heading out to Europe in November 2010 and are stoked as hell! (Big Thanks to Agipunk Records/Booking!!) We have also just recorded material for a 7″ EP – "Embrace the Cycles" – hopefully to be out by the end of the year.
We are five different people, who enjoy a wide variety of music, and share a broad range of outlooks on life and society…we hope that this comes through in our band, and we are able to create original music people enjoy, and offer ideas people are inspired by. We also strive to up the fucking punx by any means necessary.
Discography
Other Releases
"The Uninspired" 7″ EP Firestarter Records 2005

Split 7″ with KAKISTOCRACY Humdinger/To Live a Lie Records 2008

"The President is Dead" 7″ EP Defector Records 2009

Split 10″ with THE MAKAI Dysphoria Records 2009