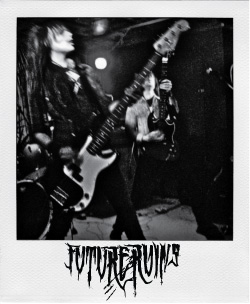 Name:  Future Ruins

Date Formed: 2010
Lineup: Sonny – vocals, Martin – guitar, Andreas – guitar, Maria – bass, Olof – drums.
History: Almost 6 years after the rise of Massmord, we lost another member of the band. The decision of Berra's leaving was of course very sad but we felt that his choice was the right thing to do at this point, since we wanted to tour more and take the band further.
So, there we were. One bass player short and restless. We started to talk about finding another bass player and pretty soon we decided to go with an old friend of the band, Maria. Once we had a complete line-up again, we were now down to only three original members and started to talk about changing the band name. A fresh start. Said and done. After some time of heavy contemplations, we soon came to agree on a new name that we fellt suited us and our music more than Massmord ever did. Now, reborn as Future Ruins, we were ready to pick up where Massmord left off.
In June 2010, Future Ruins went on a 17 days long tour in eastern Europe followed by a short tour in the UK in September.
During March and April of 2011 it was time to record the debut album, and a perfect studio was found in HoBo Recordings, Jönköping with Ulf Blomberg as a producer. The recordings went very well and the result was crushing.
To celebrate the release of the self titled debut CD, Future Ruins head out on a 10 days long tour in western Europe. On June 22nd of 2012, a 16 day European tour will commence to promote the LP version of the debut album.
To be continued…
Discography:
Self Titled CD (Power It Up Records) 2011
Self Titled LP (Aborted Society Records, Halvfabrikat Records, Social Bomb Records) 2012
Website/Contact info:
http://www.futureruins.net
http://www.facebook.com/futureruins
http://soundcloud.com/futureruins
http://futureruins.bandcamp.com
http://www.vimeo.com/futureruins