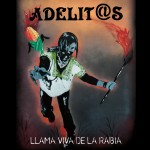 ABSOC 025
ADELIT@S – Llama Viva de la Rabia LP/CS
Release Date: 08/20/2012
Pressing: 1st pressing: 350 on black, 100 on red, 50 hand-numbered limited editions on red, 200 cassettes w/ red shells
Energetic, melodic, and rage-filled anarchopunk from Portland with dual male/female vocals sung in Spanish influenced by Latin American revolutionary music. The name Adelitas comes from a popular Mexican folk song and refers to the women who organized and took up arms during the Mexican Revolution. In this spirit the lyrics have focused on struggles around the border, immigration, and popular social movements that threaten the status quo. Que viva el punk revolucionario! Recorded 2012 at Buzz or Howl Studios by Stan Wright and mastered at Audiosiege by Brad Boatright in Portland, OR.
Limited edition of 50 w/ hand numbered silk-screened cover, regular jacket, poster, lyric sheet, mp3 card, red vinyl, includes cassette version.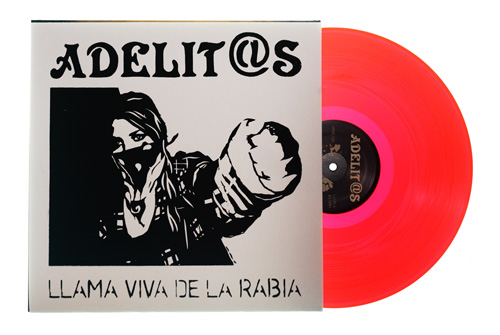 Edition of 100 w/ regular jacket, poster, lyric sheet, mp3 card, red vinyl.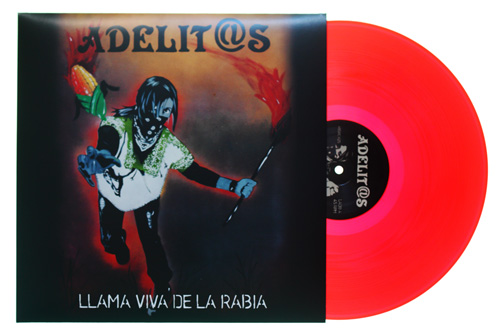 Edition of 350 w/ regular jacket, poster, lyric sheet, mp3 card, black vinyl.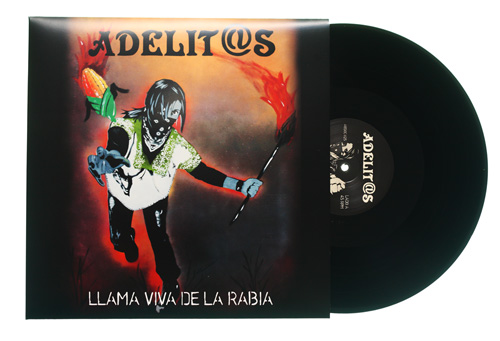 Cassette version.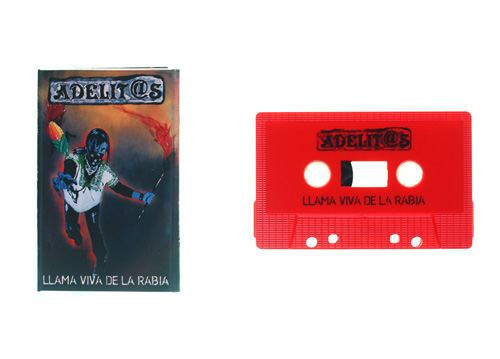 Reviews:
From Profane Existence: http://profanexistence.com/2013/04/12/adelits-llama-viva-de-la-rabia-12/
Once again, Rob and Matt at Aborted Society Records has managed to release something that is exceptionally good! ADELIT@S play excellent melodic punk rock with a very strong emphasis on the socio/politcal theme. It's intelligent, straight forward and very pleasing to the ear. This band offers much insight into our world and the many afflictions that plague this place. It's truthful and the catchy songs bring an involuntary action to your fist being raised…and it's very cathartic! There's some great lyrical content here with the dual female/male vocals…for example "Stop talking to me about the laws – this nation is illegal"…simple, but very effective. I love what this band is doing. To some degree, I affiliate a few of the bands nuances to Los Crudos, and that's due to them singing in Spanish and criticizing the countries failed efforts at seeing "illegals" as first class citizens. There's so much more this band has to offer. So I highly recommend you get off your rump, if you haven't already and add this to your collection. (Leffer)
From Punknews.org: http://www.punknews.org/review/11856/adelits-llama-viva-de-la-rabia
Anarchopunk with mostly Spanish (from a female vocalist) vocals with a Mexican folk music influence might not sound like the most obvious approach for a band to take, but Adelit@s, hailing from Portland, Oregon, bring all this to the table and make it into a highly effective musical conglomeration. These aspects are to be found on Llama Viva de la Rabia (Flame of Rage), the band's third album, which is aided by a big, thick-sounding production that adds to the power and resultant impact of the songs whilst retaining the clarity of each instrument in the mix.
Although it is a powerful sound, it's not of the more extreme ilk as some anarcho/crust/d-beat bands are prone to rely on and, in fact, there is a lot of melody included across the nine tracks. Additionally, there is one big tangent provided by the track "Voces," basically a serene-like passage of music which, on one hand seems at odds with everything else on the record but doesn't actually come across as sticking out like a sore thumb, such is the ability of the band to create an inclusive (musical) environment. "La Salida" is a prime example of the distinctly South American influence on Adelit@s' work, with both the music and vocals on the first half of the song giving rise to a Latin feel, until it turns into a more raging track. The one thing I would add is that the opening few bars remind me of Crazy Arm's "Charnel House Blues," a country/folk song and I'd also imagine that in terms of all round politics and beliefs, both bands would be kindred spirits.
The one song ("Gritos en la Oscuridad" / "Cries in the Dark") that I've found an English translation for provides some basic but nevertheless worthwhile content including the following:
Inspiring us to return
calling us to defend
our lives
with our entire being
These lyrics are not only relevant to many in today's world, but I would imagine that there is a strong link to the past in the history of the South American people. This is another example of the South American roots of this band and one which is enlightening and heartening as well as being one which transcends borders and time.
Although Llama Viva de la Rabia does not as overtly reflect the Latin influences in the way that the preceding two albums did, there is no doubt that it highlights a band firing on all cylinders and although some might consider anarchopunk a narrow musical field, this shows that it is anything but. There is more than enough here to ensure that anyone who likes punk in general should be able to find a couple of songs they enjoy. The fortunate thing is that in addition to physical versions being available, the album can also be downloaded for 'Buy Now – Name Your Price' on Bandcamp.. This is highly recommended.
Educational End Note: "Adelita" or "La Adelita," is a song from the Mexican Revolution in the early years of the twentieth century. Adelita was a woman soldier, who not only cooked and cared for the wounded but also actually fought in battles. In time the word adelita was used for all the female soldiers, who became a vital force in the war effort.
From MRR: