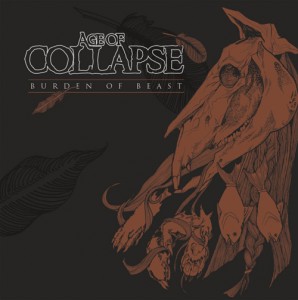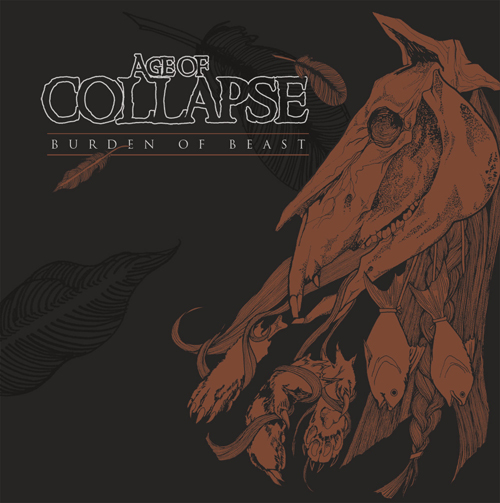 ABSOC 023
AGE OF COLLAPSE – Burden of Beast LP/Cassette
Release Date: Jan 2012
Pressing: 400 on clear vinyl, 100 on black, 100 cassettes
Vinyl editions come w/ mp3 download card and color printed lyric insert, matte jackets.
Limited edition of 50 w/ clear vinyl and hand numbered silk-screened cover, includes cassette.
Status: Pre-orders available now
While undeniably melodic crust at it's core, Burden of Beast, the first LP from San Diego based hardcore outfit, AGE OF COLLAPSE, traverses a very thin genre line occasionally teetering into the realms of related punk, metal, doom and more. Harsh vocals backed by crushing distortion give way to atmospheric, reverb laden interludes, which personify the bands complex, almost schizophrenic songwriting. Contempt for humanity and it's deconstruction of the natural world gives life to a tragic landscape that plays out as the main theme of this powerful and inventive record. Recorded at Big Fish Studios by Dan Maier and mastered at Mammoth Sound by Dan Randall.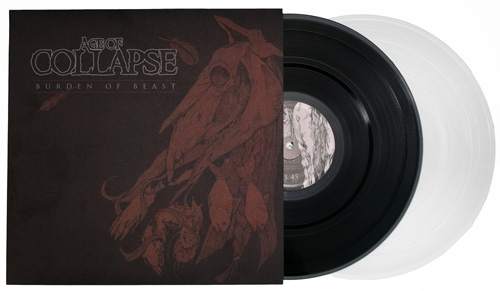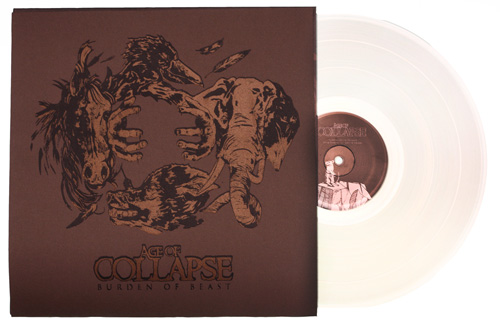 AGE OF COLLAPSE – Monuments of Promise by AbortedSociety
httpv://www.youtube.com/watch?v=aVG45sDRv-A
Reviews:
From Maximumrocknroll: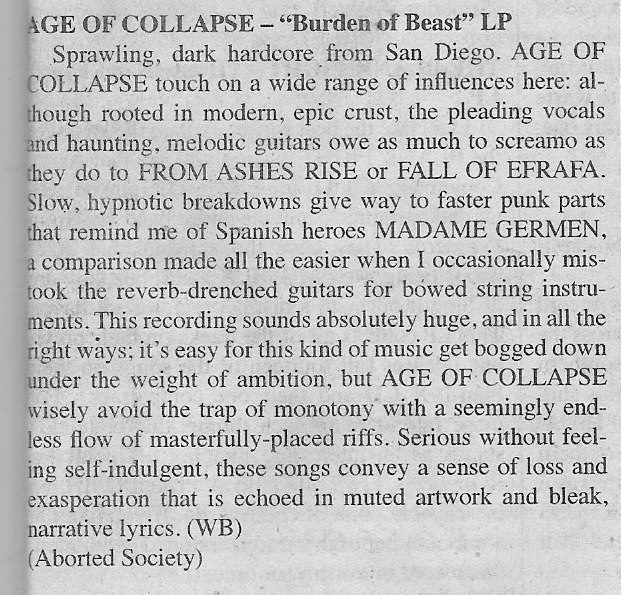 AGE OF COLLAPSE – "Burden of Beast" LP
Sprawling, dark hardcore from San Diego.  AGE OF COLLAPSE touch on a wide range of influences here: although rooted in modern, epic crust, the pleading vocals and haunting, melodic guitars owe as much to screamo as they do to FROM ASHES RISE or FALL OF EFRAFA.  Slow, hypnotic breakdowns give way to faster punk parts that remind me of Spanish heroes MADAME GERMEN, a comparison made all the easier when I occasionally mistook the reverb-drenched guitars for bowed string instruments.  This recording sounds absolutely huge, and in all the right ways; it's easy for this kind of music to get bogged down under the weight of ambition, but AGE OF COLLAPSE wisely avoid the trap of monotony with a seemingly endless flow of masterfully-placed riffs.  Serious without feeling self-indulgent, these songs convey a sense of loss and exasperation that is echoed in muted artwork and bleak, narrative lyrics. (WB) (Aborted Society)
From CVLT Nation: http://www.cvltnation.com/burden-of-beast-age-of-collapse-review/
With all of the ills going in society, I find myself listening to music that reflects the things that are on my mind. The album from San Diego's Age of Collapse, Burden of Beast, out now via Aborted Society, is the kind of food for thought that I need. People might label this band crust, but honestly I'm down to put a knife to the throat of boundaries, because this record is just kick ass music. As songwriters, Age of Collapse really know how to manifest captivating moments of honest emotion. A grand example of this is their tune "Hands Take That" – every second of this listening experience is fucking perfect. The intro is a erie walk in the woods, before these huge dirty guitar parts come into the air and are surrounded by dis-beat drumming. The riffage on this song is full of compassion and empathy, which is an ideal soundscape for an unforgettable vocal performance that shouts at humanity to wake the fuck up! Age of Collapse are masters at dipping angst in deep wells of dark melody to create a sonic wall of black magic that will have you under their spell for sure! When you hear the opening of "Final March," you can totally envision the agony of the downpressed, and realize that they can't stand for it any longer. The vocalist in this band sings from deep down in their life experiences, and you never feel like you are being preached too. As a whole, Age of Collapse seem like they wanted to make a statement with the release of Burden of Beast, and they fucking succeeded. What really impresses me about Age of Collapse is the level of honesty that this album has – they didn't play it safe, they just decided to be themselves. In closing, every fucking song on this album is a fucking banger – real recognize real, support this band.
From ThrashHead: http://thrashhead.com/age-of-collapse.html
AGE OF COLLAPSE – Burden of Beast 12″ LP
4 stars
Mar 07 2012
I like everything about this one; as soon as it was put in my hands I couldn't wait to hear it. With creepy yet beautiful artwork courtesy of Joseph Sanchez and the logo for Aborted Society Records out of Seattle, I knew. Oh, clear vinyl too!
And AGE OF COLLAPSE do not disappoint. With a clearly modern sound and crisp recording that lets the multitude of textures all come thru, they pound their way thru seven tracks with precision and apparent musical talent. Burden Of Beast is simultaneously an a-typical crust punk record and still somehow familiar at the same time. There are elements being drawn from a wide range of sources but the arrangements of those elements that AGE OF COLLAPSE construct seem fresh and very creative. This LP stretches itself stylistically without ever feeling like it is overreaching. Haunting scenes that are subtle and even tender juxtaposed against pummeling and urgent hardcore all coming together and creating a powerhouse of sound and raw emotion. One aspect of this that I really like is the multiple vocalist that weigh in at different times. Sounds like all the members are moved to add their voice to the cataclysmic whole. Unsparing and savage AND quiet and reflective. In one word…Passion.
Is it that new bands concern themselves less with a particular sound and style and thereby all their influences are able to coexist within their songs or is it that the mishmash of styles is itself a new style? Whatever it is, I have heard a few bands recently that are able to pull this off spectacularly and AGE OF COLLAPSE are definitely one of them.
Lyrically AGE OF COLLAPSE are able to create powerful images with lines like "No, you won't build your pearly gates with my ivory". The track titled Hands That Take in particular moved me with its line "You can apologize to your children for a blue world they will never know". The world painted by these guys is pretty dark and bleak indeed. Though the future looks grim, I feel that AGE OF COLLAPSE will survive. (Val)
From Razorcake: http://www.razorcake.org/record-reviews/age-of-collapse-burden-of-beast
AGE OF COLLAPSE:
Burden of Beast: LP
Waves of guitars and distortion come crashing out of your speakers, breaking across the room, decimating furniture, and ruining your carpet. Or something like that. Age Of Collapse have spun a few His Hero Is Gone records in their time, but they've built on that structure, put more of a crushing edge in their sound, and added some atmospheric touches to get the point across. I like that they pick up the speed and get into some thrash with songs like "Silver Lining," as it helps to offset the mainly mid-tempo crawl of the other songs. The riff they kick into on "Hands That Take" is a killer. Fast, jittery, and direct. When they do stuff like this I'm like, "Fuck yeah!! More please!!" as they shift down the speed and move at a moderately hurried gait. Such actions only intensify their sonic power. Plus they have some NWOBHM influences—that come to the fore in the song "Life of Misery"—that make me wonder what they could do if they just went for it and wrote some songs that were more in that vein and less in the punk realm. Then there's a song like "Final March" which has a cold and dreary introduction that gives way to a head banging riff, eventually going over into blinding speed. But the slower and mid-paced tempos in this song are the ones that crush the most. Opposing dynamics compressed in a short time span, pulled off with good results. –Matt Average (Aborted Society, abortedsociety.com)