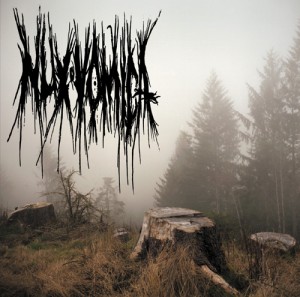 ABSOC 021
NUX VOMICA – Embrace the Cycles EP
Release Date: May 2011
Pressing: 500 on grey/brown marble vinyl
Status: Available – ships 8/8/2011
NUX VOMICA returns with two tracks of seething crust, metal, & d-beat recorded in 2010 at Haywire Studios.  A 7-min metalpunk epic woven with stringed accompaniments, followed by a grouping of two fast and furious melodic ragers. Co-released with Active Rebellion (UK). Limited color edition available through mailorder.
Listen to: http://www.abortedsociety.com/wp-content/uploads/2011/04/02-The-Two-1.mp3
Reviews:
From MRR #342 – Nov 2011
NUX VOMICA – "Embrace the Cycles / The Two" 7″
So I've seen NUX VOMICA live, and own a 7″ and their split with THE MAKAI, so I thought that I had this band pretty much figured out but they hit me with kind of a sucker punch with this record.  There are only two songs, but they offer a departure from the offbeat crust I've heard this band do in the past, especially the song on the first side.  It builds from a drone into some kind of atmospheric crusty black metallish thing that I wasn't expecting.  It's a little weird in a good way.  Kind of an abrasive-to-listen-to good way if you know what I mean.  The other song is more like what I remember with a little more death metal guitar leads added.  There are also viola parts in both songs as well, for that classical crust feel that the kids seem to like these days.  I;m not really a fan but it doesn't hurt this recording.  This one caught me flat footed.  I guess I'm going to have to pay more attention to this band in the future. (BL) (Aborted Society / Active Rebellion)
From CVLT Nation: http://www.cvltnation.com/embrace-the-cycles-7″nux-vomica-review/
Revolution is blowing in the air and it's fucking getting me hyped for the change that must come soon! For too long, the voices of dissent have not been heard, but this isn't the case right now with all the positive movements for human justice that are taking place worldwide. I can't speak for everyone, but I can speak for myself – music has always been my lifeline to social justice. I believe that one of the major things that scared the LAPD about the punk movement in the 80′s was the fact was that our scene called them and Reagan on their bullshit, so they had to bash our heads in! Anyway, I have said it before, one of our favorite American labels is Seattle's Aborted Society, who are have been releasing crushing positive music since 1999. Their latest release from Portland's Nux Vomica is a raging 7″ that has me saying I want more! This record will inject your brain with 12 minutes of off-the-hook metallic crust that will leave an indelible impression on your braincells with it's mammoth sound. Nux Vomica's vocals are beyond outstanding for a couple of reasons, the tone of his delivery is spot fucking on, totally raw. Something about the words that this band writes are uplifting, and inspires you to look at the world/humanity for what it is really about. Their songwriting is compelling and thought-provoking, and it's pure sonic crust fury! Without skipping a beat, this band knows the value of melody and uses it as a weapon of change. Nux Vomica's songs sound like they are well-built ancient audio castles that have ghosts as the gatekeepers to the afterlife. The song "Embrace the Cycles" is a killer journey that has all kinds of twists and melodic detours that keep you interested from the first sounds of feedback. The other thing about this composition is that once the drums kick in, the tune transforms into this black galloping horse that can't be tamed and gives the oppressors a ride straight to hell! I could tell you more about the other song entitled "The Two," but I won't, because it's your job to head over to Aborted Society support them and Nux Vomica.
From Profane Existence: http://profaneexistence.org/2012/02/19/nux-vomica-embrace-the-cycles-7-review/
NUX VOMICA might be every record reviewers worst nightmare. Not because they aren't a good band, on the contrary, they are too awesome. Their sound is almost impossible to describe, as it does not fit neatly into any predefined genre or pigeon hole. Instead they draw elements from every great form of heavy music, including metal, punk, crust, and hardcore. The result is ultimately discursive, heavy, uniquely original and totally epic, loaded with intensity, passion, and excellent musicianship. The two songs on this record are no exception. To me it feels like maybe they were listening to a bit more black metal when they wrote these, but maybe not. They also incorporate a viola for an extra layer of epic atmosphere. The lyrics are, as always, intelligent, insightful, poetic, contemplative, introspective, and a bit confusing. The cover art is as bleak and epic as the music, with a barren, desolate, foggy, hopeless looking photo of a decaying, partially deforested landscape. This 7" is a European tour release, limited to 500 copies, pressed on grey/brown marbled vinyl, so get this while you can. Another great release by this innovative band. (righteous)
From ThrashHead: http://thrashhead.com/nux-vomica.html
NUX VOMICA – Embrace the Cycles 7″
5 stars
Mar 07 2012
Here we have yet another great record in a string of great records from Aborted Society Records. NUX VOMICA have been raging for almost 10 years now and with this Embrace The Cycles EP they show that they have lost none of the passion they have carried along the way.
This is a massive record despite its small format. Haunting and atmospheric, with layers upon layers of rhythms and sounds. At times acoustic and introspective, at other times evocative and droning at others times ferocious and rampaging . There is so much going on but it all works as a cohesive unit building upon itself, growing, expanding and forming into a work of art that is emotionally powerful and moving to say the least. There is also a strange but effective use of multiple rhythms and time signatures that make this sound very unique while still remaining straightforward and unpretentious. I really like the way they used an acoustic interlude as the outro on side A and as the intro to side B. It really keeps this flowing and gives the sense of solid foundation. It all feels so organic and natural.
I am also impressed by the way this little slab seems to defy categorization in my mind. The complexity of it all makes for a genre bending record that will stay on my turntable for a long time to come. Try to imagine the bastard child of FROM ASHES RISE, CARCASS and MORNE and you are in the ballpark. ABSOLUTELY ESSENTIAL!!!!
Seems like maybe this took a while to finally surface since it was recorded back in 2010. Mine came on cool grey and red swirl vinyl with a mini poster too.
There is supposed to be an LP on the way and I can't wait to get a copy if this is any indication of their current course… (Val)