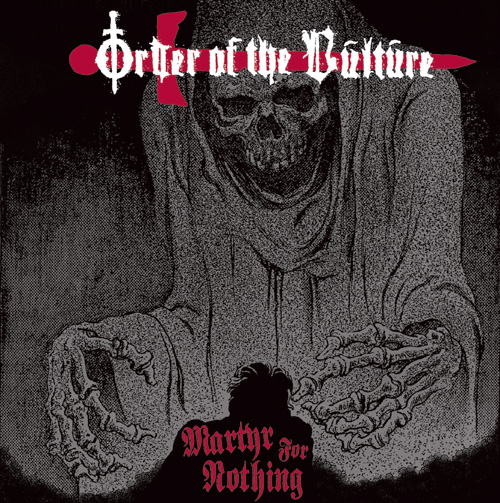 ABSOC 019
ORDER OF THE VULTURE – Martyr for Nothing EP
Release Date: August 2011
Pressing: 440 on red vinyl, 110 on black vinyl.  50 limited edition box sets with red vinyl and silk screened cover available through mailorder only.
Status: Available – ships 8/8/2011
Click here to purchase through Aborted Society Distro.
Recorded in 2004 aside the "Christ Killer" EP and originally to be put out as a split 7″ that never materialized.  This was remastered by Jack Control at Enormous Door in 2011, and is 3 tracks of punishing blackened d-beat crust amidst dark, atmospheric soundscapes.  Ltd to 550, 440 copies on red and 110 copies on black.  Comes with French-door style jacket and printed lyric insert.  We made a die-hard limited edition of 50 hand crafted, hand scorched, stained boxes with an OOTV emblem branded and burned into the face.  The box is wrapped in dyed twine and also includes a limited silk-screened cover which will also be numbered.  The box editions will all include red vinyl.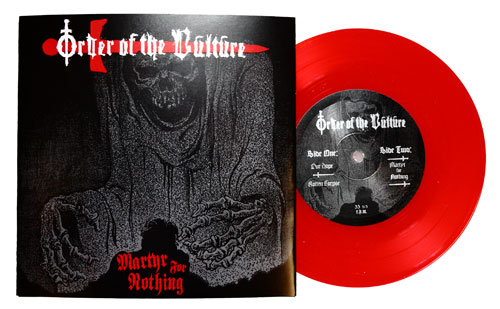 Reviews:
From MRR #342 – Nov 2011
ORDER OF THE VULTURE – "Martyr for Nothing" EP
I hadn't heard anything recently from OOTV so was excited to listen to this and hear where the band has gone.  Turns out these are older tracks (recorded in 2004) that never saw the light of day until now.  This Portland, OR band does blackened crust thrash well.  I also enjoy these older tracks a bit more than their more recent stuff, because the tracks are more to the point.  Fewer drawn out intros and samples.  Just raw buzzing guitars, basic mid-paced drumming and black metal style vocals all of which would make HELLHAMMER proud.  The crust influence is minimal and the lyrics are vague enough to read more like death metal lyrics than pro-Satan / anti-Christian. (MH) (Aborted Society)
From CVLT NATION: 11/11/2011
http://www.cvltnation.com/martyr-for-nothing-order-of-the-vulturereview/
I love to see a label grow with each release, and build a solid foundation based on gnarly music, and the Seattle label Aborted Society Records is that kind of label. Started in 2000, they have been putting out rad releases ever since. Being that they call a city home that just has positive vibes, it's no surprise that they are doing the right thing. One of their most recent releases is an EP by Portland's death crust punks Order of the Vulture, entitled Martyr for Nothing. A blistering onslaught of black metallic rawness will take over your being as you listen to these three songs. Honestly, everything about the music this band conjures up is just straight on fucking point! Their demonic freedom fighter riffs are pointed at the skulls of the downpressers, whose days of power are numbered. Order of the Vulture have given their lives over to the real spirit of change, and this fact can be heard and felt in every second of Martyr for Nothing. What's epic about their sound is that they have forged black metal and crust into their own perfect sword of sonic destruction. Yeah, you will hear the get up & go of d-beat, but you will also be creeped out by the demented blackened vocals that are spit on every track. Order of the Vulture does not sacrifice satanic melody for speed, a fact that will have your blood turning into pus as you head bang your way to hell and beyond. I'm amazed at how much fucking energy there is in their songs, and I dig the way that they incorporate eerie sound effects, making for rad audio drama. On the song "Martyr for Nothing," they hit these pockets of rancid groove that will have your face contorting, going, damn, these motherfuckers are killing shit. The vocals on this song will draw you into a bleak mainframe, but the drumming will have your dark thoughts bouncing off the walls, and the breakdowns are spectacular! Martyr for Nothing leaves me demanding more out of Order of the Vulture, like a full length, and soon. Aborted Society Records has done it again…stay tuned, because you will be hearing more from this label on CVLT Nation very soon!
From Profane Existence: http://profaneexistence.org/2012/02/20/order-of-the-vulture-martyr-for-nothing-7-review/
Starting from the outside, this 7" is totally eye catching. It's done in black, grey, red and white in a black metal-ish font. The cover has a robed skeleton and the back has the bands logo splitting the sleeve open down the middle opening up like shutters. The inside has a few old morbid photos and a separate full size lyric card. The first two songs seem to be written from the perspective of the undead, while the third is a tad more living, personal and emotional. All three tracks are fairly old, coming from a recording session in 2004 that were recently re-mastered and unleashed upon the public. Their style isn't fresh and new, but it's a rock solid, foot up on the monitor, head banging, throwing up the horns in your favorite black jeans, patched up vest and wrist to elbow spiked gauntlets sort of kick ass slab o' pressed petroleum. If brutal driving crust with vocals that are heavily influenced by first generation black metal is you're cup of tea, then you should grab this. There are only 550 pressed: 440 on red, 110 on black and somewhere in there are 50 that come in a hand crafted boxes with all sorts of bells and whistles that would drive any collector nuts. (Jake)