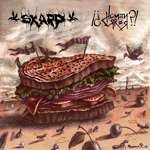 ABSOC 003 / PTT 01
SKARP/HUMAN ERROR?! – split 7″
Release Date: 2001
Pressing: 300 on red vinyl
Status: SOLD OUT
NW grind at it's finest on this collaboration between Seattle's infamous Skarp, and the now-defunct Human Error?! Skarp plays punishing crustcore, flavored with grind, ska, and even a little pop-punk. Human Error?! plays fast 80's style skate thrash with blast beats. Split release with Pull the Trigger Records.
Members of SKARP went on to play in: SNUGGLE, BOOK OF BLACK EARTH, SAMOTHRACE.
Members of HUMAN ERROR?! went on to play in: PHALANX, COUNTDOWN TO ARMAGEDDON, SLIGHTLY LESS THAN NOTHING, FEEDERZ, NOTHING'S CHANGED, DEATH PARTY.