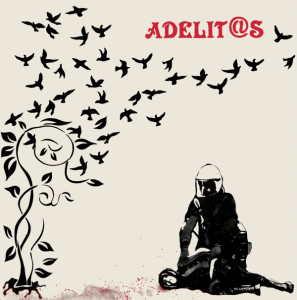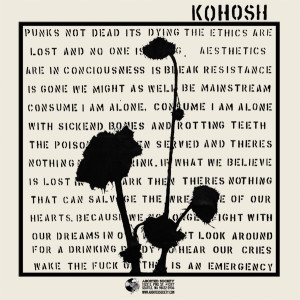 We are announcing pre-orders for ABSOC 031: ADELIT@S / KOHOSH split 12″, a release months in the making and we are really excited to finally get this one out! The split features five new tracks of blazing anarcho-punk from Portland's ADELIT@S, who are picking up right where their Llama Viva de la Rabia LP (released on ABSOC in 2012) left off.  Energetic, melodic, and tuneful punk with politically charged dual female/male vocals sung in Spanish.  Incorporating some of their latin folk influence, these tracks are punchier and more hardcore than earlier efforts.  Recorded by Stan Wright at Buzz or Howl Studios in Portland, OR.
A progressive six-piece from Seattle, KOHOSH brings three tracks of inventive crust which equally harkens to 80's peace punk as much as it does to the more melodic side of the 90's European anarchopunk sound.  Dual guitars weave in and out of fast and mid-tempo passages accompanied with cello and harmonized female/male vocals. Recorded by Brandon Fitzsimons at Airport Grocery Studio in Seattle, WA.  Both sides were mastered by Dan Randall at Mammoth Sound in Oakland, CA.
This is the first pressing of 300 on 150g red vinyl release with printed lyric insert, jacket, and mp3 download code.  There is a limited edition of 50 copies also on red vinyl that features an alternate screen printed and numbered cover, as well as the standard jacket, lyric insert, and mp3 download code.  Pre-order from the links above.