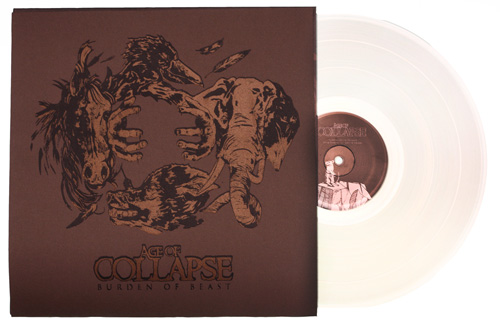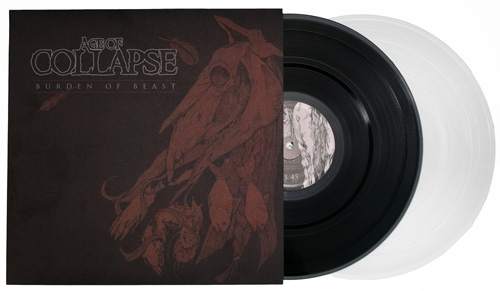 We've gotten some new stuff in our distro! First and foremost, we finally have the AGE OF COLLAPSE Burden of Beast LPs in, and limited editions are ready to ship!  The screens came out rad on these, so grab one before they're all gone, we only did 50 of 'em.  Due to delays in the cassette plant, we are going to be shipping the cassette version that accompanies the Limited Editions separately, so as not to make people who pre-ordered wait any further.  We apologize for that, but it's kind of out of our hands as what was supposed to be ready in mid December is going to press only now.  If anyone has a great recommendation for a cassette duplication vendor other than NAC we are all ears :).
We will be running a sale from now until the end of January as we gear up for some new stuff.  Use the promo code "JAN2012" during checkout at our store and receive 15% off any order over $25.00. 
We've taken over distribution of the NUX VOMICA – President is Dead 7″ (color vinyl) and the ORDER OF THE VULTURE – Death Mask 7″ from Defector Records.  We have limited quantities of these on hand, but they weren't heavily distro'ed at the time, so pick em up!  Distros and stores get in touch for wholesale rates.  We are almost out of the NUX VOMICA – Embrace the Cycles EP and the ORDER OF THE VULTURE – Martyr for Nothing EPs are moving fast!  The MURDERESS LP is officially sold out and we will be repressing this year along with their forthcoming LP.  We also got in AGE OF COLLAPSE shirts and patches, MURDERESS patches, and ORDER OF THE VULTURE t-shirts!  All shirts are available in limited qtys of style and size, so check em out below!
Other distro items recently added:
BONEBLACK – s/t LP – crushing dark d-beat crust from Montreal with scathing female vox.  Reccomended!
KALASHNIKOV – Living in a Psycho-Caos Era LP – Restock of this amazing anarcho punk record from Milan, Italy.  On constant play!
MUNDO MUERTO – Entre El Kaos LP – Fast paced, 80's influenced HC punk from this So Cal powerhouse.  A must have.
PIPSQUEAK – Fowl Hymns LP – Debut LP from this Seattle acoustic duo.  Awesome artwork by Jen Meyers!
AGE OF COLLAPSE patches
AGE OF COLLAPSE t-shirts
MURDERESS patches
ORDER OF THE VULTURE t-shirts
Coming up next:
ABSOC 022 – FUTURE RUINS – s/t LP – crushing d-beat crust from Sweden!  Check out a track on our media player!
MURDERESS "The Last Thing…" LP repress
NUX VOMICA "A Civilized World?" LP repress
ORDER OF THE VULTURE Cassette releases
new MURDERESS LP
new NUX VOMICA LP
new ADELIT@S LP
new COUNTDOWN TO ARMAGEDDON LP
Keep posted as we will be adding a ton of Second Hand/Used items in the distro this week!
Cheers!  XOXO ABSOC