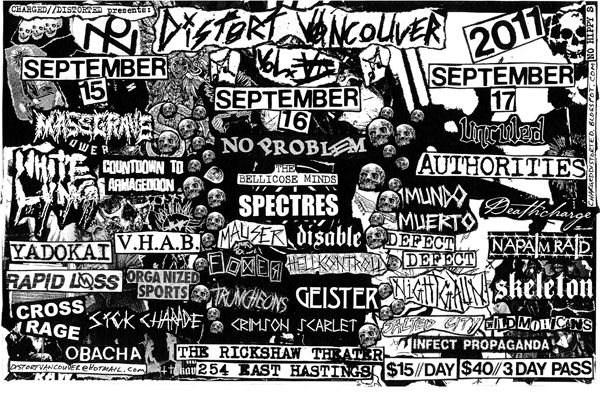 This year will be 3 days… SEPTEMBER 15, 16, 17…
Also expect pre-shows, day shows, after shows, and a lot of cider drinking and glue huffing.
SEPT 15:
WHITE LUNG (Vancouver weirdo punks)
MASS GRAVE (Vancouver crust masters)
COUNTDOWN TO ARMAGEDDON (Seattle dark hardcore)
YADOKAI (San Francisco raw punk)
VILE HORRENDOUS ARIEL BOMBARDMENT (Portland war noise assaulters)
RAPID LOSS (Edmonton old school hardcore punk)
ORGANIZED SPORTS (Portland tough hardcore punk)
VIOLENT GORGE (Winnepeg grinders)
SICK CHARADE (Vancouver raw hardcore)
OBACHA (Squamish Violence)
SEPT 16:
NO PROBLEM (Edmonton Deranged punks)
BELLICOSE MINDS (Portland brooding goth influenced punk)
SPECTRES (Vancouver peace punk masters)
MAUSER (Florida raging raw punk)
DISABLE (Atlanta, GA Kawakami worship d-beat)
FODDER (Sacrameto, CA d-beat raw punks)
HELLKONTROLL (Florida raw noise distort fuckers)
TRUNCHEONS (Montreal FRAMTID inspired d-beat punk – ex AFTER THE BOMBS!)
GEISTER (Edmonton melodic peace punk)
CRIMSON SCARLET (Chucklavista goth wave punk)
SEPT 17:
UNRULED (Montreal classic punk from the 80's)
AUTHORITIES (Berkely, CA/Vancouver classic KBD punk)
MUNDO MUERTO (LA hardcore punk)
DEFECT DEFECT (Portland big time catchy, WIPEResque punk)
NAPALM RAID (Halifax, NS d-beat crusties)
NIGHTGAUN (Phoenix/Vancouver crasher crust fucks)
SKELETON (Winnepeg raw d-beat)
SALTED CITY (Portland ex-CALL THE POLICE/TALK IS POISON/etc. Catchy d-beat punk)
WILD MOHICANS (Portland, wild party punx)
INFECT PROPAGANDA (Vancouver crust mayhem)
All three shows will take place at the Rickshaw Theatre – 254 E. Hastings, East Vancouver.
Each show is $15, or $40 for a 3 day pass. For tickets e-mail distortvancouver@hotmail.com and put Distort in the subject so i know it's not junk.
UP THE PUNKS and keep checking this shit out for updates.
FB event page: http://www.facebook.com/event.php?eid=209229925785870