New Site and Upcoming Releases!
A few months in the making, we're stoked to unveil a new website this weekend!  To celebrate this and the brutally cold weather we're having in Seattle, we're running a deal for the next few weeks until December 8th — go to our online store, and enter the code "

winter

" at checkout to receive 15% off your total order!
This page will eliminate our Blogger page, which up until now was our place for news updates.  All of the posts from that page are now assimilated here, so adjust your links if applicable.  We're still adding stuff here and there, so if you see something missing, that's why.  We've been busy as hell this year, and have some new projects coming up that will completely dissolve your entire perception of reality… or just rock your face off!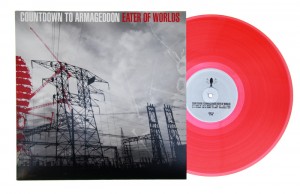 The COUNTDOWN TO ARMAGEDDON Eater of Worlds LP is still fresh off the press from their recent West Coast tour with FRUSTRATION.  Comes with a digital download card for the album, and is limited to 500 on red vinyl.  Pick one up here.
Those of you in the Pacific NW should do yourselves a favor and make it up to Georgetown on Sunday November 28th for the 1st ever MEDIA BLITZ! punk record swap meet!  Details, details.
We will begin the frosty NW winter season off with a new 7″ by ORDER OF THE VULTURE, Martyr for Nothing. This is our favorite Vulture stuff to date, three pummeling tracks of black metal-infused d-beat crust!  Details are still in the works, but we have something special lined up for the limited edition.  Plans are also made for a double CD release of the first two ORDER OF THE VULTURE LP's and seven inches, to make up for the absence of CD releases for both.  Lookout for these in January!
Also in the works is a co-op release we are doing for two up and coming Swedish crust groups, INSIDIOUS PROCESS and AVFART 33.  Details to follow, but we will be handling the US distribution for this release.
We've got some new material coming in from NUX VOMICA as well for a 7″ release – Embrace the Cycles — also coming early 2011.
New Distro items:
MASAKARI – The Prophet Feeds LP
LINK – Chapter One
MORNE / WARPRAYER – split LP
OVERMARS/STARKWEATHER – split LP
UNKIND – Yhteiskunnan Pikkuvikoja LP + CD *restock
ICOS / OVERMARS – split 7″
ASSASSINATORS – Sigt efter hjertnet LP/CD
ICOS – Fragments of Sirens 2xLP/CD
MADAME GERMEN – Invocacion a Morte LP *restock
APATIA NO / FALLAS DEL SISTEMA – split 10″
COUNTERBLAST – Faceless 10″
FALL OF EFRAFA – Owlsa LP *restock
SCHIFOSI – Absentium Existence LP *restock
THE HOLY MOUNTAIN – Enemies 12″ *restock
NUX VOMICA / KAKISTOCRACY – split 7″ *restock
KAKISTOCRACY – An Apology 7″
NU-KLE-AR BLAST SUNTAN – Blot out the Worthless Sun LP
MUNDO MUERTO – Que Asko! LP
MAKAI, THE – Embracing the Shroud of a Blackened Sky LP
AGRIMONIA – s/t CD
D.S.B. / THE ASSASSINATORS – split 7″
Also, we have several NUX VOMICA shirts and patches in as well!
Cheers,
Rob + Matt
ABSOC